I've been lucky enough to have my work in several books in the past few years, including a couple of great ones in the past couple of months. If you haven't seen these yet, check em out.
Gig Posters: Rock Show Art of the 21st Century, by Clayton Hayes, Quirk Book
s. Clay's this crazy Canuck who got all of us poster artists organized through his amazing online archive of posters,
gigposters.com
. He's the reason many of us are making a living off our art these days, and I can't thank the guy enough. He just edited this first collection of posters, and it's a handsome tome. Highly recommended.
Also out there somewhere (if anyone can help me get a copy, I'd be very grateful) is this 720 page book that accompanies the museum show Sonic Youth: Sensational Fix. The exhibit, which includes some of the work I've done for them in the past, is slowly moving from museum to museum in Europe. A friend sent me photos of my pages in the book.
And here are some older books I'm in, still worth checking out:
The Art of Modern Rock, by Paul Grushkin and Dennis King, Chronicle, 2004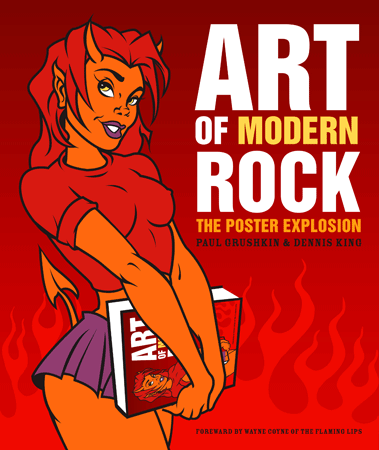 The Art of Musical Maintenance
Panda Meat, edited by Frank Kozik, Last Gasp, 2005
Simple Screenprinting, By Annie Stromquist, Lark Books, 2004